SensorGrid
sensor networks integrated with grid computing
There is increasing interest in sensor webs and efforts to integrate sensors and instruments to the Grid.
Our work focuses on integrating sensor and actuator networks, in particular, to the Grid.  This will enable real-time data mining and decision-making which can influence the underlying process as it unfolds.
<![if !vml]>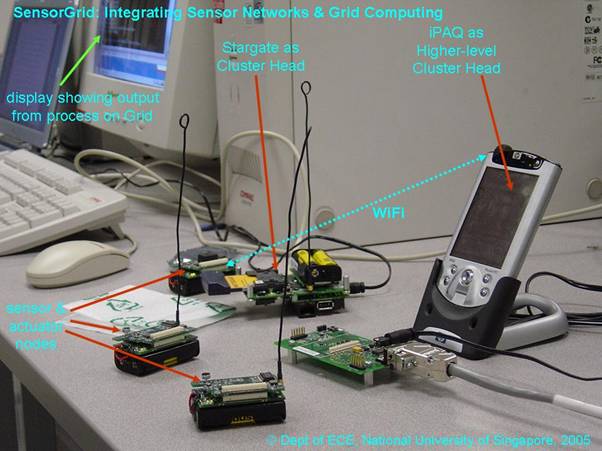 <![endif]><![if !vml]>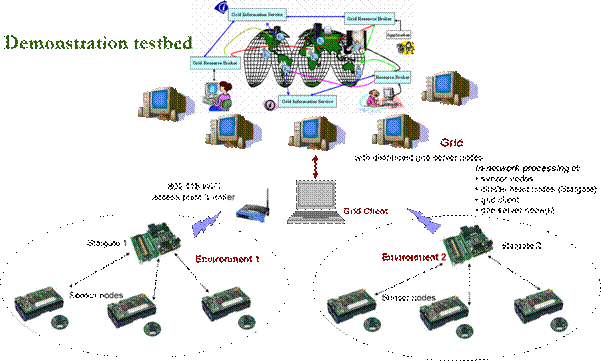 <![endif]>
Status of Project
We currently have a web-services-based interconnected sensor network and grid computing (based on Globus Toolkit 4) architecture capable of doing distributed data mining.
Articles/Papers
Our recent articles/papers on SensorGrid and the issues involved:
<![if !supportLists]>· <![endif]>CK Tham, "Sensor-Grid Computing and SensorGrid architecture for Event Detection, Classification and Decision-Making", book chapter to appear in "Sensor Network and Configuration: Fundamentals, Techniques, Platforms, and Experiments", ed. NP Mahalik, Springer-Verlag, Germany, 2006.
<![if !supportLists]>· <![endif]>CK Tham & R Buyya, "SensorGrid: Integrating Sensor Networks and Grid Computing", invited paper in CSI Communications, Special Issue on Grid Computing, Computer Society of India, July 2005.
Related information
IBM Research technology forecast (29 March 2006)
Related Conferences & Workshops
1.  Special Session on Sensor-Grid Computing (extended deadline: 31 Aug 05) to be held in conjunction with the 2nd International Conference on Intelligent Sensors, Sensor Networks and Information Processing (ISSNIP 2005), 5-8 Dec 2005, Melbourne, Australia
2.  International Workshop on Scientific Instruments and Sensors on the Grid, Melbourne, Australia, 5 Dec 2005, in conjunction with eScience 2005
For more information, contact:
Chen-Khong Tham, Ph.D.
Associate Professor
Dept of ECE
National University of Singapore
http://www.ece.nus.edu.sg/stfpage/eletck/
E-mail: eletck@nus.edu.sg
Acknowledgments
Several dedicated people at Computer Networks & Distributed Systems Laboratory (CNDS Lab) at ECE NUS have contributed to the SensorGrid software and hardware architecture.
Lead Architect and Developer : Daniel Yagan
Architects and Developers : Yao Jianxin, Yeow Wai Leong, Jean-Christophe Renaud
Students : Tarun K Sharma, Sharan Makhija, Low Siow Meng, Wen Jing, Liu Ming, Su Shiyan; Teo Hui Sian, Frederick Tan, Jarrold Ong, Leslie Tan