<![if !vml]>

<![endif]><![if !mso]>

<![endif]>

Dr. Dipti Srinivasan

Associate Professor

Department of Electrical & Computer Engineering
National University of Singapore
4 Engineering Drive 3, Singapore 117576

Tel: +65 6516 6544; Fax: +65 6779 1103

email: dipti@nus.edu.sg

<![if !mso]>

<![endif]><![if !mso & !vml]> <![endif]><![if !vml]>

<![endif]><![if !vml]>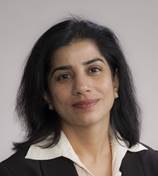 <![endif]>
Dipti Srinivasan is an Associate Professor at the Electrical and Computer Engineering department of the National University of Singapore. She also holds a joint appointment as an Adjunct Researcher at the Solar Energy Research Institute of Singapore (SERIS). Over the last fifteen years, her contributions have primarily emphasized on the development of advanced computational intelligent-based methods and their practical applications for large complex engineered systems, such as the smart grid and urban transportation systems.
She has extensive industry experience, having worked as a design engineer with an Indian utility for three years, and through several projects with Singapore utilities. Her recent research projects have focused on power system optimization and control, wind and solar power prediction, generation scheduling and development of multi-agent systems for micro-grid operation and control. She has published 3 edited books, 16 book chapters, and over 300 international journal and conference publications.
She is currently serving as an Associate Editor of IEEE Transaction on Evolutionary Computation, IEEE Transaction on Neural Networks and Learning Systems, IEEE Computational Intelligence magazine, and IEEE Transactions on Intelligent Transportation Systems. Dipti is a senior member of IEEE, and was awarded the IEEE PES Outstanding Engineer award in 2010. At the ECE department of National University of Singapore, she has been teaching courses in the areas of Sustainable energy systems, Smart Grid, and Computational Intelligence methods. She was the winner of NUS Annual Teaching Excellence Award in year 2007, 2008 and 2009, and was placed on the Honours list in 2010. She is the recipient of Engineering Educator Award from the Faculty of Engineering, NUS in 2011 and 2012.